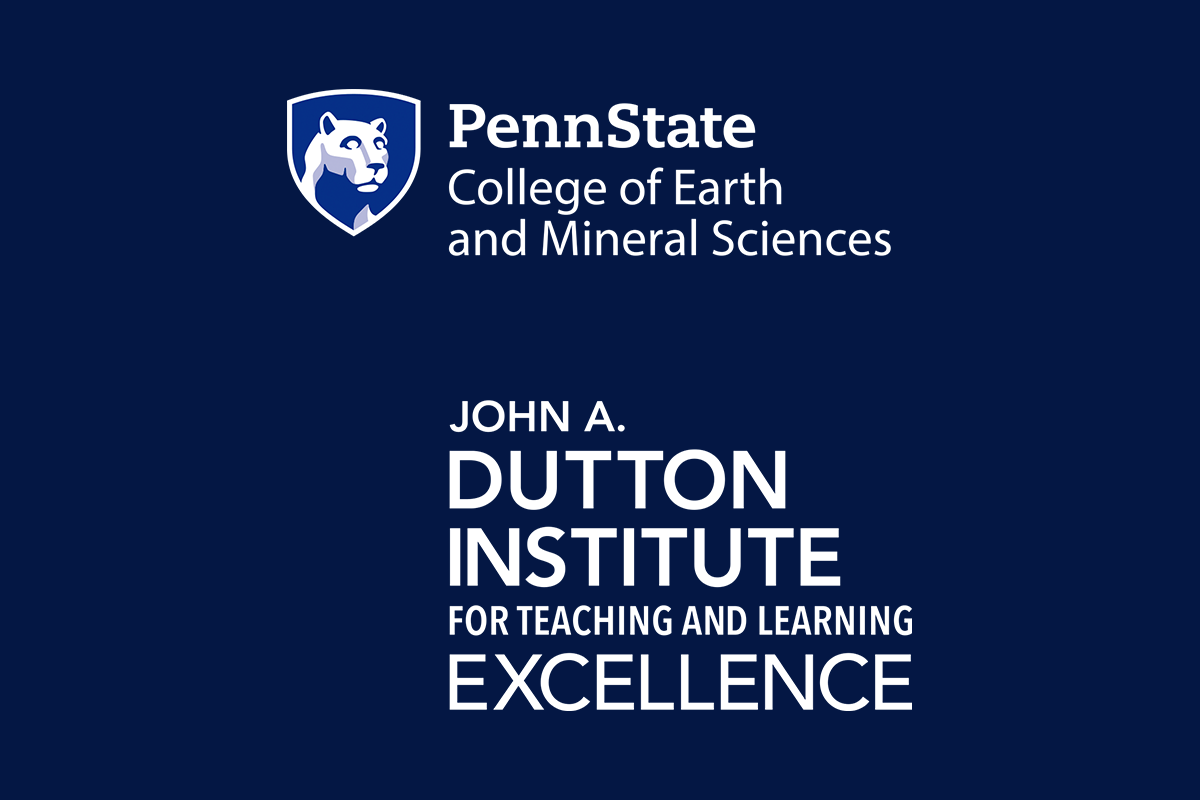 The Dutton Institute gets a new name!
March 29th, 2023
As the Dutton Institute reflects on our past 22 years of service to the EMS community, it is exciting to see how far we have come!
Originally founded in 2000 as The John A. Dutton e-Education Institute (in honor of our former dean, Dr. John Dutton, who was instrumental in establishing the institute), we continue to serve as the learning design unit for the College of Earth and Mineral Sciences, working in close partnership with the College's five academic departments to design, develop, and manage the College's online certificate and degree programs. But so much has happened since our founding in 2000 – lots of changes!
To date, our College boasts 18 certificate and degree programs delivered online through Penn State World Campus and we have collaborated in the development of more than 150 asynchronous, fully online courses. We have been able to extend the reach of a high-quality, engaging, rigorous, and research-based Penn State education to more than 1,300 online students who study with us from around the globe through Penn State World Campus. The impact of online education now reaches resident instruction students across the University, as well! In 2022 our College provided 310 course sections of 77 unique EMS online courses, reaching 9,221 unique undergraduate and graduate students and generating 32,881 student credit hours.
The Institute's experienced team of learning design experts, multimedia specialists, and programmers work in partnership with EMS faculty to cultivate the College's capacity to create teaching and learning environments that embody the best practices from the field of learning science. Our team keeps close tabs on the ever-changing horizon for technology and pedagogy innovations and affordances that can enhance learning environments. In addition to identifying and piloting promising new technologies, we have developed numerous tools and resources that help our students and faculty to reach their learning and teaching goals.
The Dutton Institute today provides services far beyond our original work in support of the College's Penn State World Campus offerings. Our services now include:
Online course design and development for both asynchronous and synchronous environments
One-on-one teaching consultations
Multimedia development including graphic design and video production
Professional development offerings focused on teaching and learning
Program design, development, assessment, and evaluation
Support for broader impacts initiatives
Education research that pairs learning science with the College's academic disciplines
HR support for part-time World Campus instructors
Management of World Campus-related budgets and financial reporting
Front-line World Campus student support through our team of Program Assistants
Our work has expanded so significantly since 2000 that we realized we had outgrown our name! To better reflect the work we do today, we have officially become the John A. Dutton Institute for Teaching and Learning Excellence. To celebrate, we have re-launched our website to provide our collaborators with more information about how we can work together. We invite you to take a look around and to reach out to us. We look forward to working with you!
Tag Cloud
You can quickly search our news articles by topic using our tag cloud. Click on a term to see a list of related articles.